What is and Why Hive?
What is Hive?
Provides data warehousing solution built on top of Hadoop

ช่วยอำนวยความสะดวกในการค้นหาและจัดการชุดข้อมูลขนาดใหญ่ที่อยู่ใน Hadoop Storage (HDFS หรือ HBase)

มาพร้อมกับภาษา SQL ทีเรียกว่า HiveQL

SQL has huge developer base
นำความสามารถของ Hadoop มาใข้ (querying, analyzing, and summarizing large amounts of data)

Allows you to project structure to any data formats

Can handle non-structured data

Open source Apache project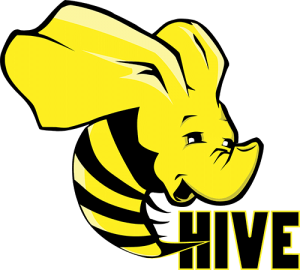 Hive is NOT designed for
Hive is not for real-time queries

Hive is still a batch operation: Hadoop jobs incur substantial overheads in job submission and scheduling – not suitable for real-time queries.
ผลที่ตามมา – ความล่าช้าในการค้นหาของ Hive ซึ่งโดยทั่วไปมีสูงมากแม้ว่าข้อมูลนั้นจะมีขนาดเพียงหลักร้อยเมกะไบต์
Hive ได้รับการออกแบบมาเพื่อความสามารถในการปรับขนาดและใช้งานได้ง่าย

Hive is not for Online Transaction Processing (which requires real time and frequent write operations)

Hive is more for Online Transaction Analysis (in Batch mode), which requires mostly read operations
Hive does not support UPDATE/DELETE/INSERT a single row
Example Hive Applications
Log processing
Text mining
Document indexing
Customer-facing business intelligence

Example: Google Analytics

Predictive modeling
Hypothesis testing
Hive
VS
RDMS
Similarities
Similarities
– HiveQL (SQL-like language)
– Similar data model-database, table, view
– SQL
– Similar data model-database, table, view
Differences
Differences
– Designed for OLAP
– Batch oriented and high latency operations
– Schema on Read
– Design for OLTP
– Real-time and low latency operations
– Schema on Write
Hive
VS
PIG
Similarities
Similarities
– Batch oriented
– HiveQL gets translated into MapReduce jobs
– Targeted for non-Java developers (SQL developers)
– Batch oriented
– PIG statement gets translated into MapReduce jobs
– Targeted for non-Java developers
Differences
Differences
– HiveQL (like SQL) is a declarative language with a single result set
– PIG Latin is procedural data flow language with input and out for each step
Hive Architecture
Hive Internals
Hive แปลคำสั่ง HiveQL เป็นชุดงานของ MapReduce ซึ่งจะดำเนินการนี้อยู่ใน Hadoop Cluster
Abstracted notions of traditional RDBMS are provided over Hadoop data sets through "metadata" store

Database – namespace containing a set of tables
Tables
Schemas
Indexing
View

Hive specific data models are also supported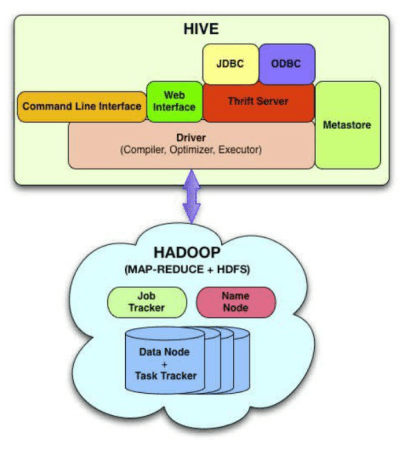 Hive Interface options

Command Line Interface (CLI)
Web interface
Thrift Server – Any JDBC an ODBC client apps can access Hive

The "metadata" store is maintained internally via embedded Derby database (MySQL and other RDBMS are also supported)

Table definitions
Mapping to HDFS
HiveQL
Types of HiveQL operations

DDL operations
DML operations
SQL operations

How to execute HiveQL

Use Hive shell – just type "hive"
Run Hive script file – type "hive –f <script-file>"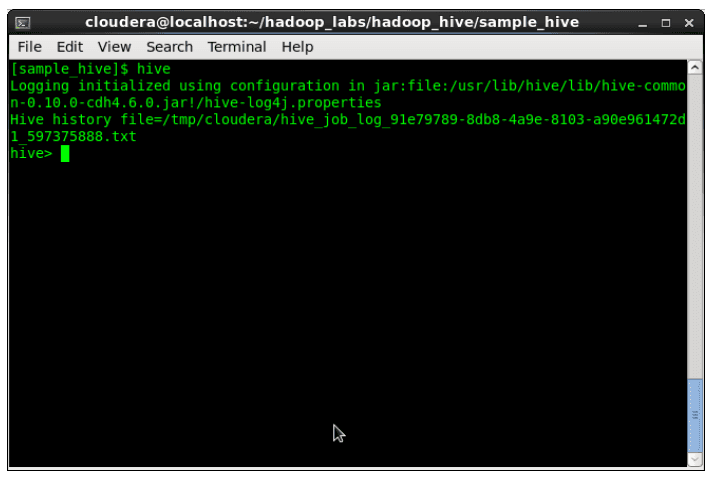 HiveQL – DDL operations



HiveQL – DML operations
Loading flat files into Hive

No verification of incoming data

If the loaded data is not compliant with the schema specified forthe table, it will be set to NULL
HiveQL – SQL operations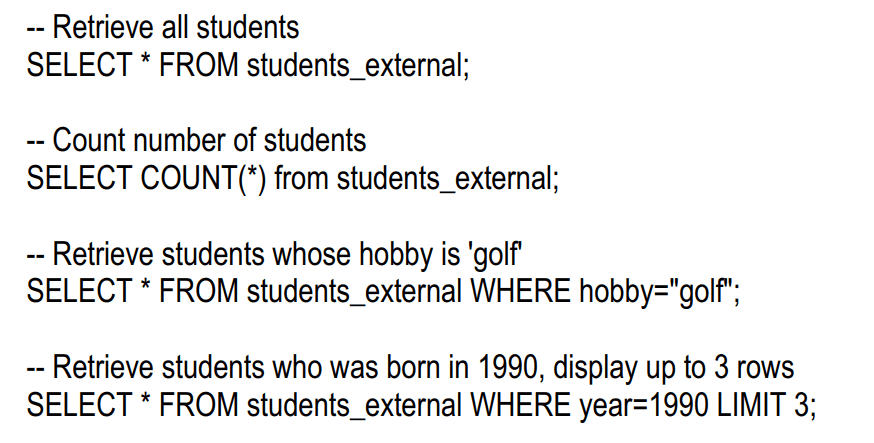 HiveQL – Built-in Functions
HiveQL comes with a bunch of built-in functions
Hive -> SHOW FUNCTIONS ;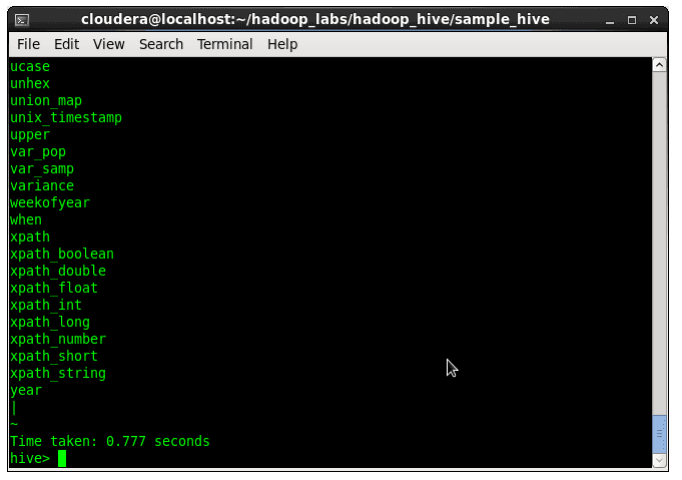 Physical Layout
Hive warehouse directory in HDFS

/user/hive/warehouse (default) – the default can be changed via hive.metastore.warehouse.dir
Hive Table is represented as a directory under Hive warehouse directory

/user/hive/warehouse/students directory – represents "students" Hive table
/user/hive/warehouse/book directory – represents "book" Hive table
Actual data is stored in flat files under the directory
Example: Physical Layout
In the example below, there are 5 directories representing 5 tables
Loading Data into Hive Tables
Multiple Schemes of Loading Data
#1: Use Hive LOAD DATA command (Most common: our focus here)
To load data from flat files
Data files can be loaded from Local or HDFS (default)
Data files can be loaded Internal (default) vs EXTERNAL
#2: Manually copying data files into the "/user/hive/warehouse/<tabledirectory>" Hive directory
Hive automatically recognize them
#3: Use Hive INSERT command
To load data from another HIVE table using SELECT (It is not for inserting a new record)
#4: Use Apache Sqoop to move RDMBS data to Hadoop
#5: Use Apache Flume to move large data sets to Hadoop
Loading data from Local vs HDFS
Load data from local file system

Load data from HDFS (default)

Loading data Internal vs EXTERNAL
Load data Internally

Data is moved to Hive storage (/user/hive/warehouse)
การลบตาราง Hive ข้อมูลก็จะถูกลบด้วย

Load data with EXTERNAL … LOCATION

ใช้ข้อมูลที่อยู่ใน HDFS
Hive just has pointers to the existing data in HDFS when a table gets created
ลบตาราง Hive ข้อมูลใน HDFS จะไม่ถูกลบ

Load data Internal

Load data EXTERNAL (done at CREATE time, no LOAD required)

Load Data from Existing Table using INSERT … SELECT
Use it when you want to load data from existing table or tables

Hive Partitions
What is and Why Partitions?
ข้อมูลภายในตารางถูกแบ่งออกเป็นหลาย partitions

เพื่อเพิ่มประสิทธิภาพการทำงานของการค้นหาข้อมูล

Each partition corresponds to a particular value(s) of partition column(s) and is stored as a sub-directory within the table's directory on HDFS
When the table is queried, where applicable, only the required partitions of the table are queried, thereby reducing the I/O required by the query

For example, you might want to partition weather data base on year – when query operation is done per year, only that partition need to be accessed
Partitioning Data Mechanism
One or more partition columns may be specified
Creates a sub-directory for each value of the partition column
Queries with the partition columns in WHERE clause will scan through only a subset of the data
Creating Partitions
Specify the partition column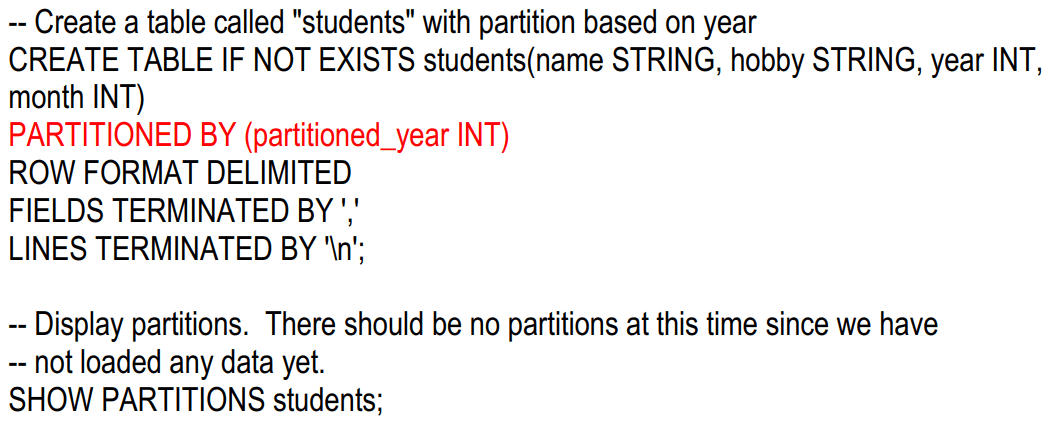 Load data into Partitions
Each partition is loaded with data specific for the partition column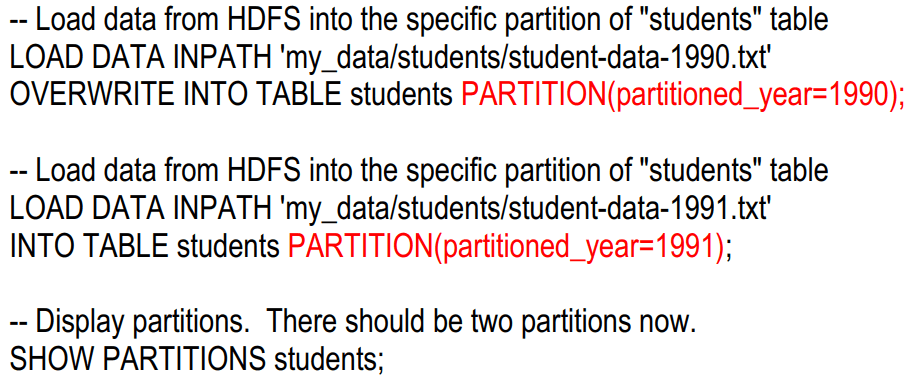 Querying Partitions
By specifying the where condition with the partition, only that specific partition will be queried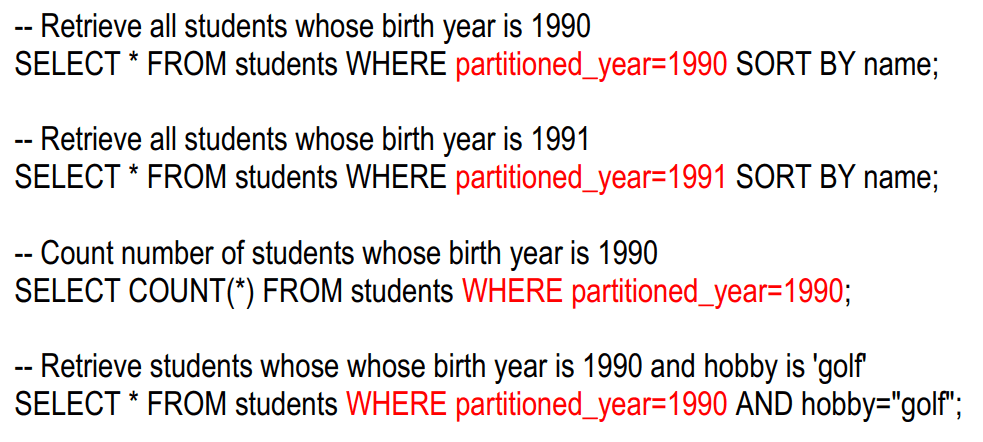 Hive Joins
JOIN
Hive supports

Inner Join (default)
Outer Join – Left Outer, Right Outer, Full Outer

การ JOIN สามารถทำได้ในสองรูปแบบ

Using SELECT … INNER JOIN.., SELECT… LEFT OUTER JOIN, etc
Create a joined table from

What is and Why Buckets?
เป็นกลไกในการสืบค้นและตรวจสอบจากการสุ่มข้อมูลตัวอย่าง
Breaks data into a set of buckets based on a hash function of a "bucket column" and allows execution of queries on a subset of random data
Bucketing must be configured

hive> hive.enforce.bucketing = true;